Bankruptcy
Chapter 7 Bankruptcy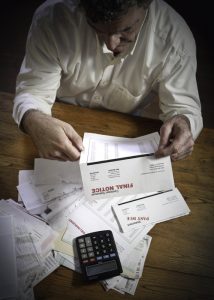 In Mississippi Filing for bankruptcy gives a fresh start to financially strapped individuals. In a Chapter 7 personal bankruptcy, all credit card debts and "unsecured" debts are eliminated and it gives you a chance at a new life. After bankruptcy, you can recover good credit in about two years. Filing for bankruptcy does not mean 7 to 10 years of bad credit – that is a myth. Credit card companies usually offer you new credit cards right after the bankruptcy is over. Qualifying for a mortgage will take about three years after bankruptcy. The most often asked question is how does one qualify for Chapter 7 bankruptcy? Essentially, you need to have three things: (1) moderate to low income, (2) significant amount of debt and (3) no substantial property.
One: Moderate to Low Income
In order to qualify for Chapter 7 personal bankruptcy, you must have moderate to low income. Your income level is determined by your household's circumstances. This includes factors such as your cost of living, where you live and what deductions are taken out of your paychecks. Every case has its specific circumstances.
Income levels that qualify for Chapter 7 bankruptcy filing are based on median income figures provided by the Census Bureau. However, these figures are not strict guidelines so you may be able to qualify for Chapter 7 bankruptcy even if you are making more income than the median income depending on the details of your situation. If your income is too high to qualify for Chapter 7 bankruptcy, you may qualify for Chapter 13 bankruptcy.
Two: Significant Debt
Individuals can file Chapter 7 bankruptcy to eliminate debt as low as $4000 and as high as $100,000 or more. In an average Chapter 7 case, debt totals typically range between $20,000 and $60,000. The total amount of debt that is considered substantial can vary greatly from one individual to another. For example, a $4,000 credit card debt to a single parent with two children, earning $28,000 a year with no child support can be just as overwhelming as a $20,000 credit card debt for an individual with higher income.
Three: No Substantial Property
Filing Chapter 7 bankruptcy does not mean you lose all of your property or possessions. The bankruptcy law is designed to protect individuals' cars, homes, bank accounts and other assets up to certain values. In the great majority of bankruptcy cases, consumers are allowed to keep their cars, homes, bank accounts and other household items. The amount of protection is different for each state. If your assets are above the value allowed, the Bankruptcy Court could potentially sell them to pay your creditors. Depending on which state you live in, you may be entitled to select between State exemptions and Federal exemptions which are different laws that protect different assets in different ways. The safest way to ensure that all of your assets are protected is to consult with a lawyer for bankruptcy evaluation.
---
Chapter 11 – Business Bankruptcy
Companies that file Chapter 11 do so because revenues will be higher in the long-term than if assets were immediately liquidated. Creditors can get more money if the business reorganizes and completes a payment plan. To declare Chapter 11, a business must disclose all assets and debts. In cases involving millions of dollars, or more, this can be very complicated. The creditors must meet with the debtor. If the bankruptcy court finds evidence of fraud or mismanagement by the debtor, a trustee is appointed. The business can operate as normal, but the owner is not in control.
---
Chapter 13 Bankruptcy
How Chapter 13 Bankruptcy Works
In Chapter 13, you can keep your property, and end up paying back all or some of the debt over several years. This is not like chapter 7 bankruptcy, which is a liquidation of your debt. Because you end up paying your debts over time in Chapter 13 bankruptcy, it is considered a reorganization.
Chapter 13 Eligibility
Chapter 13 bankruptcy isn't for everyone. Chapter 13 requires you to use your income to pay your debt, so you will have to prove that you can afford your payment obligations. If your income is insufficient, the court won't let you to file for Chapter 13. If your total debt burden is too high, you also do not qualify. Your secured debts cannot exceed $1,149,525 and your unsecured debts cannot be more than $383,175.
The Chapter 13 Process
Before you can file for bankruptcy, you have to complete credit counseling from an agency on the list approved by the United States Trustee's office. The agencies charge a fee for their services, but they must provide counseling for free or reduced rates if you cannot afford to pay.
For more information on Bankruptcy, Contact Hood & Bolen, PLLC Attorneys At Law today at 601-923-0788 to schedule an appointment, or browse the website for more information about R. Michael Bolen or about the firm.